Hey Friends,
The world says putting together a to-do list will cause you to be more productive. I would kind of agree with that, IF….to-do lists didn't give me so much anxiety. Well let me be clear, it's not the to-do list themselves that gives me anxiety. It's the inability to complete it that'll put my mind in a vice grip. There are a number of reasons why I am unable to get to a item on my to-do list, but the most frustrating reason is not being inspired to complete them.
For instance, when one is dealing with bipolar disorder and they are experiencing a "down moment" of depression, it's hard to roll out of bed, let alone tackle a list of things that need to be done besides surviving the next 24 hours without having suicidal thoughts. Or what about just being emotionally drained from all of the things that require so much of your attention leading up to the due dates of said items on the to-do list.
Today, I just so happen to want to talk about to-do list because I have realized that they have been getting in the way of the most important relationship that in my life; God and I. Sometimes, I distract myself with piling things onto my to-do list, so I don't have to focus on the things that I don't want to deal with. But then, my to-do list will get so long, I'll want to scream in frustration that there is too much to do. See my conundrum?
Then…after all of that, I will get so overwhelmed, I will begin to ignore my to-do list all together, but by this time, I'm far from God AND my to-do list. I've swam too far off shore without my safety net. I lost my focus on Christ and began focusing on what was in the water.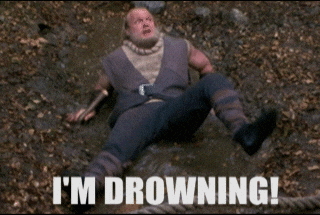 (by the way, I think this is God's view of me when I'm freaking out over my to-do list)
What I'm learning now is that God doesn't care about a to-do list. He cares about the things that we need to get done, but He doesn't care that we have a list of things that need to get done before spending time with Him first. Why? Because He knows that we cannot do those task on our own, that we have to draw strength from Him and allow Him to walk alongside of us. Even if you consider it to be a small task. And the great part of the bargain is that He will give us peace and joy in our hearts when we tackle those pesky to-do rodents.
Then the way you live will always honor and please the Lord, and your lives will produce every kind of good fruit. All the while, you will grow as you learn to know God better and better. We also pray that you will be strengthened with all his glorious power so you will have all the endurance and patience you need. May you be filled with joy

-Colossians 1:10-11
When we draw from Gods strength, He is able to carry us day after day after day rather than being burnt out from carrying our own burdens in our own strength day after day after day. Isn't that a relief?
The only hard part is remembering that we don't have to do it in our own strength…that He will joyfully take it upon Himself and carry it for us.
To-do lists' can be helpful, but proceed with caution. Please don't allow them to get in the way of things that are truly important. Love you guys. Thanks for reading my thoughts, or God's thoughts, rather. Please remember to pray for one another. I pray you have a wonderful start to your week.
Have you never heard? Have you never understood? The LORD is the everlasting God, the Creator of all the earth. He never grows weak or weary. No one can measure the depths of his understanding.
He gives power to the weak and strength to the powerless.
But those who trust in the LORD will find new strength. They will soar high on wings like eagles. They will run and not grow weary. They will walk and not faint. -Isaiah 40:28-29,31